Welcome to DEFCON Wiki
The wiki about the game DEFCON that anyone can edit.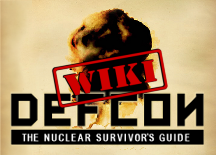 Since January, 2008. Now with 61 articles.
Here we want to build an info site about the game
for beginners and advanced gamers,
from simple gameplay to complex strategies.
Featured articles

What's new

2021.08.23. - A new Great Contributor arrived!

- General Losodth takes his office as Commander of Central Intelligence!

2019.01.23. - We are here for more than Ten Years!

- Anyone playing this game these days?  ;)

2014.05.28. - Message Walls enabled!

- For explicit request of Lt. Allen.

2014.05.16. - Man on board!

- Mr. CmdrWarpig is enlisted as a new Officer of Central Intelligence!
- At last, I have managed to fix the image link errors. ;)

2008.10.01. - Some fixing applied

- I've fixed the big Logo.
- Some migration issues (Image link errors) are still alive. :(
- Warm Welcome for Mr. Kadski, and his contributions.
- Welcome, Mr. Binclin, we need Your help too!

2008.02.03. - Text import done

- Today I finished the import of the articles!

2008.01.26. - Cleanup

- I've made some Wiki-cleanup, and a favicon.
- Good news: The extraction of the old pages is done, now comes the import.

2008.01.17. - DEFCON Wiki Logo created

- First things first. :)

2008.01.14. - DECFON Wiki established

- We got the oppurtunity to build a Wiki for the game DEFCON in the Wikia portal.
- We started to migrate the content form the old site (defconwiki.72dpiarmy.com).

Contents

Helping out

To write a new article, just enter the title in the box below.

Not sure where to start?

Adding content

Talk and more...

Check out the community portal to see what the community is working on, to give feedback or just to say hi.

History of this Wiki

The initial content of this site originally wrote and collected by Florian Hufsky, and had hosted in a private wiki page (defconwiki.72dpiarmy.com).

Sadly, that page was closed because of lack of notoriety. We hope that a page in Fandom attracts more DEFCON enthusiasts.

The contents have been migrated by Gabor Madacs, but he can't afford much time to keep the Wiki up to date, as he is no longer an active player.

The Wiki is waiting for new Heroes to pick up the torch...